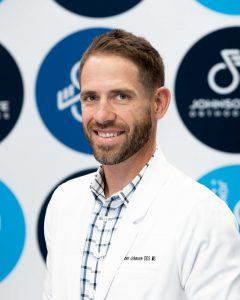 Dr. Spencer Johnson is committed to providing the highest orthodontic treatment to all patients that visit our practice. He is a leading Salt Lake City and South Jordan orthodontist, offering a variety of services to cater to the needs of every patient in the area. Johnson Elite Orthodontics uses the latest technologies available to deliver outstanding results. Whether you are looking to start early treatment for your child, or see if you or your teen is a candidate for the Invisalign® System, Dr. Johnson is here to help. Learn more about Dr. Johnson below and see what sets him apart from the rest!
Early Life and Education
Dr. Spencer Johnson was raised in rural Idaho. Growing up, he learned the value of hard work by working on the family farm, irrigating for farmers in the summers and owning his own lawn mowing business at the age of 14. The lessons on hard work (and fending for himself in a family of eight kids) is probably what pushes Dr. Johnson to want to be the best at whatever he puts his mind to. He was a State Champion and All American wrestler in high school. He was then offered a scholarship to wrestle at Rick's College where he was ranked 9th in the nation. After serving a two-year mission in California, he met his wife Stephanie and they were married a couple of years later. He graduated with honors and received his Bachelor of Science degree from Idaho State University in 2004.
Dr. Johnson attended dental school at The Ohio State University where he became a loyal Buckeye football fan. He was the recipient of several academic scholarships and managed to stay busy with his involvement in student government and research. Dr. Johnson graduated amongst the top of his class with magna cum laude honors and membership in the prestigious Omicron Kappa Upsilon (honorary dental society).
Dr. Johnson was then accepted into one of four spots, at the University of Oklahoma for orthodontic residency. During residency Dr. Johnson fell in love with road biking and became the Oklahoma State cycling champion. Upon his graduation from the University of Oklahoma, Dr. Johnson received his Master of Science degree, Certificate in Orthodontics, and received the Graduate Student Association Award for outstanding academic achievement.
Dr. Johnson has been committed to staying on the cutting-edge of the latest orthodontic treatments and technologies! He spends a great deal of time attending and hosting continuing education seminars. He also maintains his memberships in numerous professional organizations including the American Association of Orthodontics®, Utah Association of Orthodontics, Rocky Mountain Society of Orthodontics and the American Dental Association®.
Additionally, Starting in December 2010, Dr. Johnson had the great privilege to work alongside Dr. Jack Feller, who founded the practice and has been providing outstanding orthodontic care for over 30 years! Dr. Johnson is grateful for this opportunity and appreciates collaborating with such a knowledgeable orthodontist.
When he is not doing orthodontics, Dr. Johnson can be found spending time with his lovely wife and three children OR on a bike! He also enjoys skiing, snowboarding, wakeboarding and most any outdoor activity. He is always up for a good action movie, a friendly competition, loves sushi and is really just a big kid at heart! He enjoys joking around at the office and really makes both adults and kids feel comfortable by combining his exceptional orthodontic skills with his fun loving personality.
Dr. Johnson's Treatment Philosophy
"Growing up, I was always taught to leave things better than I found them. I feel so lucky to work in a profession that allows me to do just that every day. It is extremely fulfilling to watch the transformation in the lives of patients as their smiles are improved.
It is my belief that patients deserve not only gorgeous smiles, but also first-rate customer service. They deserve to go to a place where they have a good time and feel comfortable. I can guarantee that Johnson Elite Orthodontics is just that place. We offer beautiful smiles and an unforgettable experience that will improve their lives forever."
Let Dr. Johnson Help You Reach Your Goals
Thank you for choosing Dr. Spencer Johnson as your local orthodontist. Johnson Elite Orthodontics works hard to ensure our patients are both happy and comfortable throughout their treatment time at our practice. We are always accepting new patients at our Salt Lake City and South Jordan Daybreak offices. If you are interested in scheduling an appointment with Dr. Johnson, please fill out our appointment request form online and one of our team members will contact you as soon as possible. We appreciate you trusting us with your orthodontic treatment, and we look forward to seeing you soon!